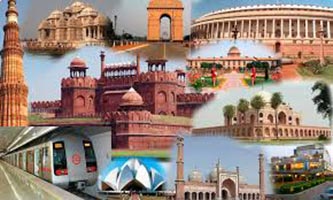 Delhi, the capital city of our country, has a glorious history. It houses many mesmerizing mosques, monuments, and forts which carry the heritage of Mughal era. The divergence between long-winded Old Delhi and planned New Delhi is massive. And, people love to enjoy exploring both the versions of Delhi. This city is dotted with some booming landscaped gardens which are a perfect destination to spend some relaxed time.
Here is a quick tour to the best attractions of Delhi, and the best part is most of them can be visited for free!
• Red Fort
• Jama Masjid
• Chandni Chowk
• Swaminarayan Akshardham
• Humayun's Tomb
• Lodhi Gardens
• Qutab Minar
• Gandhi Smriti & Raj Ghat
• India Gate
• Lotus Temple
You can easily reach these places and other visiting places in Delhi by hiring a public/ private transport service, especially a car. For that, you need to book Delhi sightseeing tour package by car through any reputed travel agency in town.
Read below to explore the benefits of doing Delhi Darshan by a car.
Advantages of Delhi sightseeing by a car:
• Enough number of places can be visited in a day
By hiring a car for roaming in Delhi, you can cover up to seven locations in a single day, which is a great number. Just remember to note down your top seven must visiting spots so that without wasting much time in selecting locations you can fulfill your aim and you will not miss the preferred locations to include in your itinerary.
• Economical solution
If you have a small group of members, then hiring a car for one day Delhi sightseeing can make an economical solution. For example, if you have a family of four and you make about 8 hours of drive in a car, it can come out to be an affordable travel option with comfort solutions.
• Pick and drop facility
This is one of the best reasons why you should book a Delhi sightseeing tour package by car. The driver can pick you from your favorable location and also will drop you at your place. You do not have to reach the bus stop to start your journey or to go back to your hotel after finishing your tour- what happens in the case of a bus tour!
• Halts at shopping centers and restaurants
Whether you like to dine at a five-star hotel or at the road-side dhabas, your car driver can guide you to the best location to have a meal of your choice. They can certainly make you affordable solutions if you want. Also, the local shopping places like Palika bazar, Janpath, Sarojini market, etc. are easy to reach by cars. The drivers will drop you and pick you up from the nearby locations of those market places, so you will not have to walk long to catch your transport.
• Photography opportunities
Guys, you are hiring a car! So, definitely, you can stop it anywhere to click some pictures or selfies at the sites. There is no time constraint or no one to make you hurry to reach your transport vehicle like a bus.
Tip!
Try to cover up your desired places to visit in a single day otherwise sightseeing by a car can be a bit costly!