Why Choose Local Car Rental Services For Taj Mahal Tour?
Posted by Admin on December, 26, 2019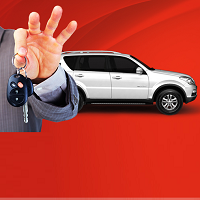 Car rentals services in India is the most convenient and comfortable option of traveling around any city. This luxury service is now heightened to all big cities and even small towns of India. However, this service is more commonly used in tourist places. In north India, Taj Mahal located in Agra, is one of the most visited tourist place, a major tourist attraction. A tourist from across the world visits Agra to explore
the amazing beauty of wonderful Taj. For the car rental services for TajMahal Tour is a value-for-money service.

Benefits of car rental services for Taj Mahal tour
Taj Mahal being one of the Seven Wonders is one of the famous tourist spots. Almost all the tourist attractions in Agra remain within the
radius of 25 Km. One can easily hire any car rental service for visiting all tourist attractions like
• Agra Red Fort,
• Itmad-ud-daulah tomb,
• FatehPurSikri, etc.

For any tourist, it is easy to hire car along with a driver to explore the Agra city and magnificence of Taj Mahal. This will not require
hiring an additional guide to explore other attractions of the city. The driver himself is enough to guide you across the city. The driver will
guide the tourists to visit all popular attractions apart from Taj Mahal.
But you should remain sensible while hiring a car rental services for Taj Mahal tour as some companies are not reliable and may fall you into trouble.
So, consider safety measure before finalizing the deal with any company.

Points to consider before booking
Always prefer local car rental services to get the breath-taking view of Taj Mahal and explore other attractions of the city as well.
These are points to consider before you settle the deal.

• Always hire a car from a registered car rental company.
• Check the registration card of the car and the driving license of the driver before finalizing the deal.
• Understand the rental fee as different companies charge in a different mode. Some car rental providers include fuel cost in the rental fee
• While some ask for additional cost.
• Choose a well-conditioned and well-maintained car to enjoy a tension free journey.
• Focus and clear all terms and conditions before confirming the deal. Also, inquire about any hidden charges.

These are some important points that you must consider before you confirm the deal with car rental services for Taj Mahal tour.
It would be beneficial to you if you hire local car rentals as they can get you the best deal.
This entry was posted on December, 26, 2019 at 13 : 00 pm and is filed under Car Rental. You can follow any responses to this entry through the RSS 2.0 feed. You can leave a response from your own site.